QWorks is a Texas small business that began by developing Hitchin' Rods® for folks who pull trailers. During hook-up, centering the trailer over the hitch ball is made easier when you use hitching rods. Did you know that practical hitch-alignment-guides began with Hitchin' Rods®? Often imitated but not equaled, Hitchin' Rods are the toughest, easiest-to-use solution for hitch alignment. The original hitch guides are still made in the U.S. and continue to make people say, "Why didn't I think of that?"
QWorks has also worked with another Texan, the designer of the C-Betr Mirrors to bring you CBetr Mirrors, P/N CB-02. CBetr is a convex blind-spot mirror system now installed on thousands of Ford® F250 -450 truck models 1999-2007. For years, the best looking and most useful blind-spot mirror available. Backing up or changing lanes? Not until you can "see better". Now there's also a model CB-2020 for those Class C motorhomes as well.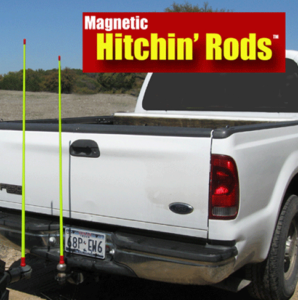 HITCHIN' RODS
The product that started QWorks, The original Hitchin' Rods spawned countless imitators. But imitators are not tough enough to stand up to this elegant design.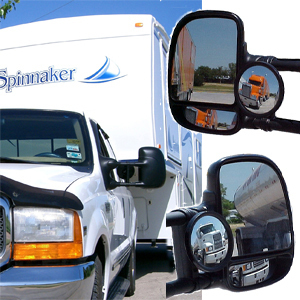 CB-02 C-Betr
Invented by a retired Texas DPS officer, the C-Betr Mirror, Model CB-02, fits the SuperDuty F250-450, model years 1999-2007. See before you change lanes!
Class 'C' – 6″ Convex
Have that Class C with the long-arm mirror? Our DPS Officer came to the rescue again. The CB-2020. A set of 6″ convex mirrors that will help make safer lane changes. See better!